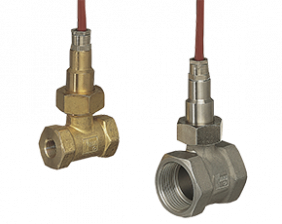 Bi-Metal Temperature Switch TBS
for liquids

Switch points:
-10 ... +100 °C (5 °C or 10 °C intervals) fixed
Connection:
G ¼ ... 1½, ¼" ... 1½" NPT, male thread, brass or stainless steel
Electrical connection: cable
Tolerance: ±3 K
Resetting hysteresis: 6 K ±2 K

Description
Bi-metal temperature switches are used for temperature monitoring and control. They are characterised by their long service life and operational reliability.
A particular advantage is their excellent repeatability, as bi-metal temperature switches are practically insensitive to the service environment.
The model TBS bi-metal temperature switches are supplied in a robust housing made of brass or stainless steel with G ¼ ... G 1½ internal thread on both sides and with a 1.5 m silicone sheathed cable. They are thus also suitable for service in rough conditions.
The temperature contacts have a fixed switch point in intervals of 5 °C over the range -10 °C ... 50 °C, and in intervals of 10 °C over the range 50 °C ... 100 °C and are designed as N/C contacts.