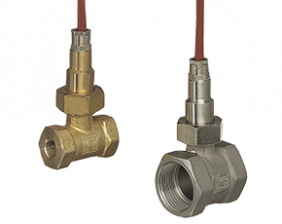 Thermal Reed Switches TRS
Switch points:
+10 ... +120°C (5°C or 10°C intervals) fixed
Connection:
G ¼ ... G 1 male thread, brass or stainless steel
Electrical connection: cable
Tolerance: ±5°C
Resetting hysteresis: ≤10°C

Description
Thermal reed switches are used for temperature monitoring and control. They are characterised by their long service life and operational reliability. A particular advantage is their excellent repeatability, as thermal reed switches are practically insensitive to the service environment.
In contrast to bimetal thermostats, for example, the switch point is not affected by the load current. The thermal reed switches of model TRS are supplied in a robust housing made of brass or stainless steel with G ¼ ... G 1 internal thread on both sides and with a 1.5 m silicone sheathed cable.
They are thus also suitable for service in rough conditions. The temperature contacts have a fixed switch point in intervals of 5 °C over the range 10 °C ... 50 °C, and in intervals of 10 °C over the range 50 °C ... 120 °C and are designed as N/C contacts.