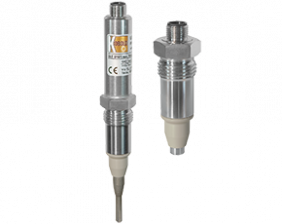 Conductive Level Switch Compact , LNK-K
For conductive liquids (>10 µS)

Electrodes: 4 - 2000 mm
Connection: G ½, hygenic mounting system, hygenic DIN 11851, Tri-Clamp®, weld on sleeve
Material: stainless steel 1.4404, Option: E-CTFE coating
pmax: 10 bar
tmax: 100 °C (CIP 150 °C)
Option: head mounted transmitter for 1 contact

Description
The conductive KOBOLD level probes LNK-K are use for level measurement. The electrical resistance between metallic vessel and level electrode is measured and evaluated. In combination with the KOBOLD LZE or LZE-R weld-in sleeves, the probe provides a measuring point that has no dead space and meets hygiene standards.
This level switch is therefore very well suited for CIP/SIP cleaning and because of its compact design the device is suitable for almost every measurement. The KOBOLD probes LNK-K are also available with integrated evaluating electronics. The output signal (24 V DC) can thus be connected to a PLC for evaluation.
This means lower installation costs, minimum wiring requirements and a high degree of noise immunity. The level probes are connected electronically through an M12x1 plug connection. Different stem lengths are available. The stem may also be E-CTFE coated, so that foaming media can be detected.