Digital Pressure Gauge - Battery Powered - MAN-SC
Digital Pressure Gauge with Battery (Battery Powered)
Measuring ranges: -1 ... 0 ... +1600 bar
Process connection: stainless steel
Connection:
G¼, G½, ¼" NPT, ½" NPT male, M20x1.5, M16x1.5, M6 female, 7⁄16 UNF
Housing: Ø 80 mm
Accuracy class: 0.5 ±1 digit
Power supply: 9 V battery
Features:
5-digit reflective LC-display, electronics module rotatable in 90° steps, capacitive touchpads, peak memory, selectable measuring units, Tara function

Highlights:
Battery life: upto zu 22,500 hours (~2.5 years)
Touchpads for programming
5-digit Display
Digit height: 16 mm
including Force Measurement via freely programmable area input
Big choice of selectable engineering units
User defined engineering unit possible
Rubber protection sleeve (accessory)
Assembly of numerous diaphragm seals possible
Special measuring ranges (on request)

Promotional Video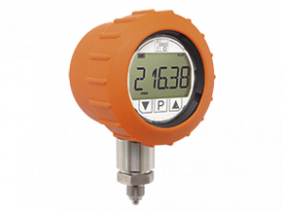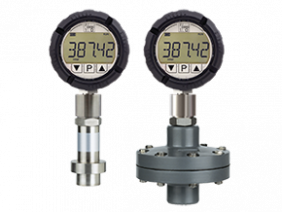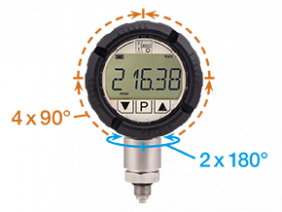 Description
The intelligent KOBOLD digital pressure gauges with battery (battery powered) are used for the display, monitoring and remote transmission of pressure-dependent operating sequences in machines and installations. The pressure to be measured is sensed by a ceramic, or metal sensor, and displayed by the electronics.
The values are shown on a five-digit LCD display. The electronics module can be rotated at 90° intervals. In the pressure switch design with integrated relay, the switching point and hysteresis can be set on the membrane keypad.
A wide range of process connections are available as an option. The process connection can be axially rotated as desired, after loosening the counter nut.