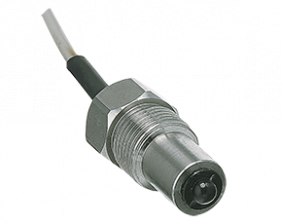 Optical Level Sensor OPT
For liquids

Contact: 1 open collector
Connection: G ½ male thread, M14
Material: polypropylene, stainless steel
pmax: 10 bar
tmax: 80°C

Description
The optical level sensors of model OPT have been developed for monitoring transparent liquids. Due to the very small dimensions, very slight switching hysteresis and high repeatability, the instruments are also suited for service in small vessels. The optical sensor is situated in a robust housing.

It comprises a plastic hollow hemisphere, in which the infrared diode is fitted as a transmitter and a semiconductor as a receiver. When the sensor is not wetted by liquid, the infrared light is reflected fully from the surface of the hemisphere to the receiver. As soon as the sensor is covered with liquid, the refractive index on the boundary layer changes and most of the light escapes into the liquid.

Less light then reaches the receiver, which allows switching to take place. The level probe should not be fitted with the sensor pointing downwards, as errors can occur due to drops of liquid sticking to it.