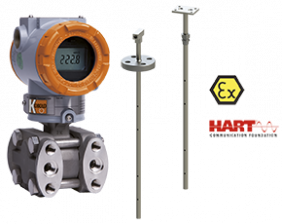 Pitot Tube - Differential Pressure ANU

Connection: G1 ... G 1½, 1 ... 1½" NPT, DN25 ... 80, ANSI 1 ... 3"
Material: stainless steel
pmax: 400 bar
tmax: 1175 °C
Probe length: 50 ... 8000 mm (2" ... 600")

Description
Pitot tube sensors are classified as differential pressure sensors for flow measurement.
The measuring principle of a pitot tube utilises the differences between the dynamic pressure on the upstream side and the static pressure on the downstream side.
The pitot tube sensors are used for flow measurement of gas, steam and liquids.
The pressure loss in a pitot tube sensor is less than primary elements using differential pressure for flow measurement.
The standard probe material is 1.4404, however, depending on the operating pressure and temperature, the pitot tube sensors can be manufactured in other materials, such as Alloy c-276, Alloy 625, Alloy 400, 600, 800 PTFE, PVDF, etc..
Optionally, the pitot tube sensor may include a temperature sensor (RTD or TC).