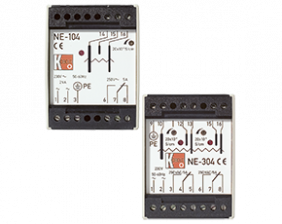 Electrode relay for conduct.level switches NE-104,-304
For conductive level switches model NES, NEW, NEH

Output: 1 or 2 limit switches
Min/max controllers
Power supply: 24, 110, 230 VAC
Mounting: standard rail

Description
KOBOLD electrode relays of model NE- are used with conductive level switches NES, NEH, NEW and LNK for level monitoring and control of conductive liquids. An electrode relay NE-104 is required for single point signalling. It posses additionally a bi-stable interval relay which lock and is therefore suitable for pump control.

With relay NE-304 and a level conductive switch with two signal and one ground electrodes, two level limits could be detected. The relay outputs could be configured as a Min. / Max. control or as a single limit switch. The relay NE-204 is used together with the conductive level limit switch NEW for water contaminating liquids.

This system complies with the requirements of the §19 WHG. It should be used for tanks and vessels for storage of non-flammable, water contaminating liquids.