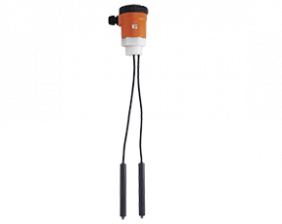 Conductive Suspended Electrode NEH
For conductive liquids

Contact: 5 contacts via relays
Connection: G ½, G 1½ male thread
Material: stainless steel, Hastelloy®, titanium
pmax: 6 bar
tmax: 150°C
For conductive liquids (>20 μS/cm)

Description
KOBOLD limit switches model NEH are used for level monitoring and pump control of conductive liquids. The instruments operate on the conductive principle. A low a. c. voltage is applied between the conductive side of the tank or the earth electrode (longest electrode) and a switching point electrode.
If the conductive medium touches the electrodes, a negligible alternating current fl ows across the electrodes and the conductive medium to the electrode relay. Suspended electrodes are ideally suited for installation when space is at a premium.
The relay amplifi es the alternating current and operates a switching relay or a pump controller. An electrode relay of type NE-104 is required per switch point for signalling. For min./max. control two switching point electrodes must be connected to the relay. Relay NE-304 operates as two single relays (NE-104).