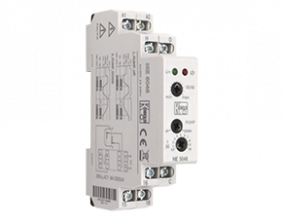 Electrode relay for conduct.level switches NE-5048
For conductive level switches model NES, NEH and LNK

Output: 1 limit signal or 1 Min./Max. controller
Power supply: 24-240 VAC/DC
Mounting: standard rail

Description
The KOBOLD electrode relays type NE-5048 are used in conjunction with the conductive limit switches NES, NEH, and LNK for level monitoring and level control of conductive liquids with a conductivity of more than 10 μS/cm.
Probes are immersed in the tank to detect the level. These probes (and the tank wall, if conductive) serve as contacts of a circuit. The probes can be single-rod or multi-rod probes (see also NES, NEH, and LNK).
The NE-5048 relay provides a limit value signal for connecting one control and one earth electrode. It also includes a bistable interval relay with latching and is thus suitable for interval switching - e.g. for pump control (min./max. control).